V2U3X4-PCIE4XE312
Quad channel 16-port (4-port x 4) USB 3.0 to PCI Express x4 Gen 2 Host Card
V2U3X4-PCIE4XE312
The V2U3X4-PCIE4XE312 is an Quad channel 16-port (4-port x 4) USB 3.0 to PCI Express x4 Gen 2 Host Card.
V2U3X4-PCIE4XE312 is integrated by the following three key parts (V2IP4X-PCIE4XE31, V2DU3X2-IPCIE2XG211, V2CB-00592).
V2IP4X-PCIE4XE31

Internal four PCIe x1 to PCIe x4 Gen 2 Switch Host Card..

V2DU3X2-IPCIE2XG211 (U3X2-IPCIE2XG211 x 2pcs)

Four PCI Express x1 to USB 3.0 Single Chip Host Controllers ( FRESCO FL1100; USB IF TID 380000026).

V2Two CB-00592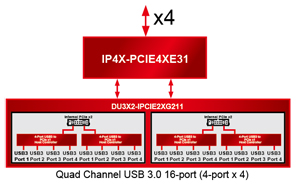 Utilizing the standard PCI Express Switch, the 8-Lane/5-Port PCI Express Switch provides the most efficient fan-out solution for integrating Quad PCI Express to USB 3.0 Single Chip Host controllers into a small board design. Each USB 3.0 to PCI Express Single Chip Host controller takes advantages of 5 Gbps burst rate of 4-lane PCI Express bus in both directions and is fully compliant with PCI Express Base specification r2.0. This solution provides full PCI Express and USB 3.0 functionality and performance.
The Highlight Features
5.25″ ODD Form Factor
Host Bus: PCIe x4 Gen 2 (5.0 GT/s)

Compliant with PCI Express Base Specification Revision 2.0

Quad independent USB 3.0 Host Controllers
Sixteen USB 3.0 Cable Ports (A-type Receptacle)

Provides USB 3.0 cable port lock mechanism


USB 3.0 Standard A-type lock mechanism